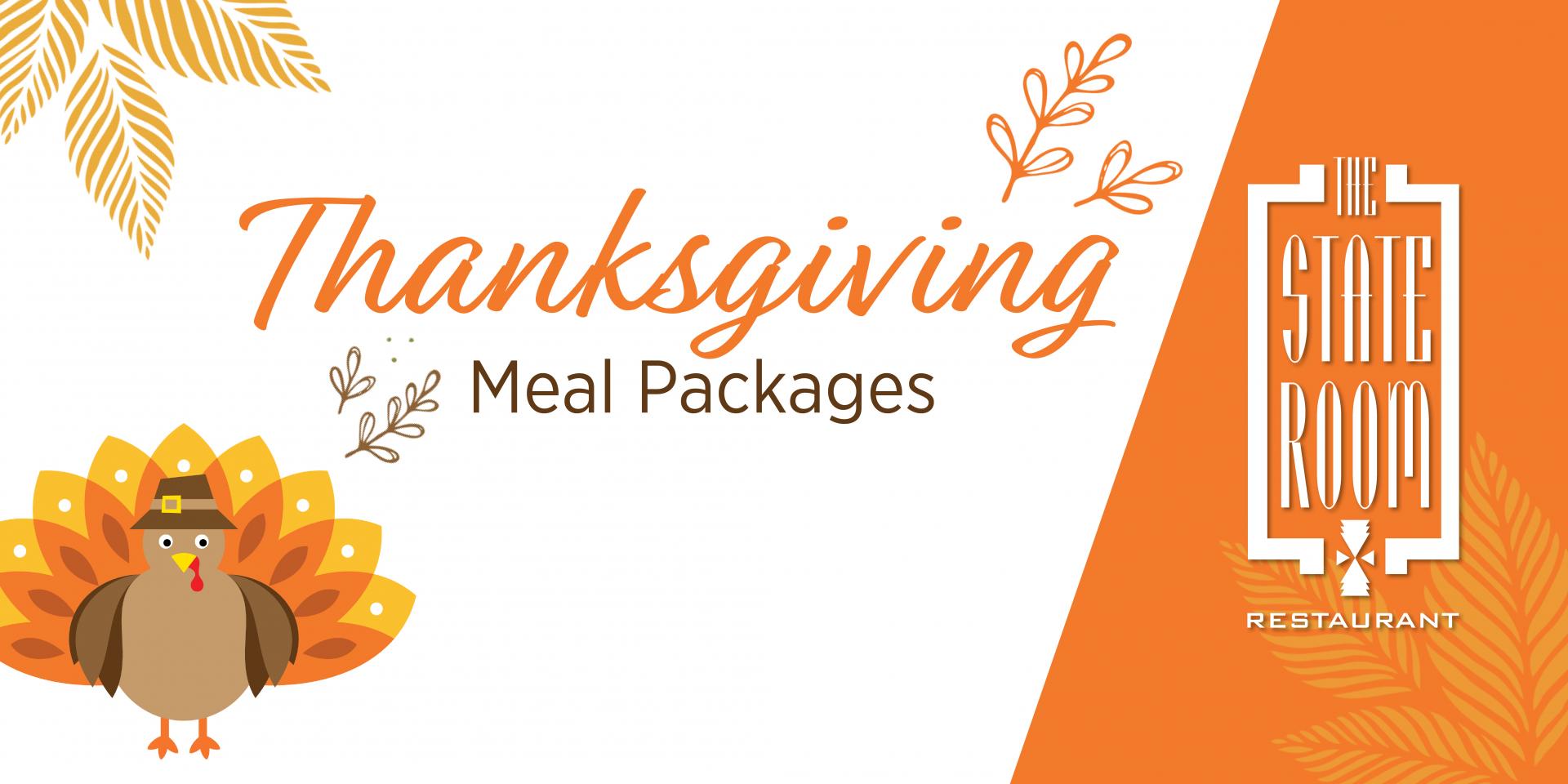 Individual and Family-style Thanksgiving Meal Packages
Curbside Pickup  |  Wednesday, Nov. 23, Noon-6 p.m.
The State Room Restaurant is offering meals for the upcoming Thanksgiving holiday. Choose from individual or family-style options expertly prepared by our Kellogg Center chefs. Meals are fully cooked, packaged cold, and ready for you to reheat and enjoy! Reheat instructions will be included.
Limited quantities are available, so place your order today before they sell out! Orders must be placed no later than noon on Wednesday, Nov. 16.
Order online: go.msu.edu/stateroom.
If you have any questions, please call the State Room at 517-432-5049.
INDIVIDUAL PACKAGES
Individual Meal  |  $40 each
Sliced Turkey (White and Dark Meat)
Pan Gravy (GF)
Cranberry Mandarin Relish (GF/VG)
Petite Carrots, Broccolini, and Sweet Peppers with Maple Glaze (GF/VG)
Classic Mashed Potatoes (GF/V)
MSU Bakers Bread Stuffing (V)
Harvest Salad (GF/VG)
Choice of Pie/Cake Slice

Apple Pie (V)
Pumpkin Pie (V)
Signature Chocolate Cake (GF/V)
Individual Vegetarian Meal  |  $31 each
Saffron Rice Cakes (GF/VG)
Tomato Emulsion (GF/VG)
Blistered Shishito Peppers, Charred Cauliflower, Roasted Oyster Mushrooms, and Corn Relish (GF/VG)
Cranberry Mandarin Relish (GF/VG)
Harvest Salad (GF/VG)
Choice of Pie/Cake Slice

Apple Pie (V)
Pumpkin Pie (V)
Signature Chocolate Cake (GF/V)
Individual Meal Remix  |  $50 each
Turkey Ballotine: Rolled Breast Stuffed with Braised Greens, Dried Cherries, and Butternut Squash (GF)
Pear Conserve with Dried Cranberries, Roasted Pepitas, and Maple Sugar (GF/V)
Petite Carrots, Broccolini, and Sweet Peppers with Mandarin Chili Maple Glaze (GF/VG)
Holiday Mash: Blend of Yukon and Sweet Potatoes (GF/V)
Pumpernickel Stuffing with Grapes, White Chocolate, and Tarragon (V)
Cornbread Casserole: Spiced Creamed Sweet Corn, Peppers, and Pearl Onions topped with Smoked Cheddar Cornbread (V)
Endive Salad (GF/V)
Choice of Pie/Cake Slice

Apple Pie (V)
Pumpkin Pie (V)
Signature Chocolate Cake (GF/V)
FAMILY PACKAGES
Classic Family-style Meal (serves eight)  |  $290
Sliced Turkey (White and Dark Meat)
Pan Gravy (GF)
Cranberry Mandarin Relish (GF/VG)
Petite Carrots, Broccolini, and Sweet Peppers with Maple Glaze (GF/VG)
Classic Mashed Potatoes (GF/V)
MSU Bakers Bread Stuffing (V)
Green Bean Casserole (V)
Harvest Blend of Brussels, Radicchio, Kale, Kohlrabi, and Carrots with Dried Tart Cherries, Roasted Butternut Squash, Spicy Pepitas, and Pumpkin Spice Vinaigrette (GF/VG)
Choice of Whole Pie/Cake

Apple Pie (V)
Pumpkin Pie (V)
Signature Chocolate Cake (GF/V)
Family-style Meal Remix (serves eight)  |  $320
Turkey Ballotine: Rolled Breast Stuffed with Braised Greens, Dried Cherries, and Butternut Squash (GF)
Gin-spiked Demi-Glace (GF)
Pear Conserve with Dried Cranberries, Roasted Pepitas, and Maple Sugar (GF/V)
Petite Carrots, Broccolini, and Sweet Peppers with Mandarin Chili Maple Glaze (GF/VG)
Holiday Mash: Blend of Yukon and Sweet Potatoes (GF/V)
Pumpernickel Stuffing with Grapes, White Chocolate, and Tarragon (V)
Cornbread Casserole: Spiced Creamed Sweet Corn, Peppers, and Pearl Onions topped with Smoked Cheddar Cornbread (V)
Belgian Endive, Mandarin Oranges, Walnuts, Bananas, and House French Dressing (GF/V)
Choice of Whole Pie/Cake

Apple Pie (V)
Pumpkin Pie (V)
Signature Chocolate Cake (GF/V)
DESSERTS
Apple Pie (V)  |  $30 per whole pie
Pumpkin Pie (V)  |  $30 per whole pie
Signature Chocolate Cake (GF/V)  |  $7 per slice or $40 per whole cake
ENHANCEMENTS
Meat and Cheese Platter  |  $75
Cured Meats, Artisan Cheese, Marinated Olives, Whitefish Rillette, and Crackers
 
Rustic Dinner Rolls (V)  |  $15 for one dozen rolls
Served with Whipped Butter
 
Belgian Endive Salad (GF/VG)  |  $35 for a large salad (eight servings)
Mandarin Oranges, Walnuts, Bananas and House French Dressing
 
Harvest Salad (GF/VG)  |  $35 for a large salad (eight servings)
Blend of Brussels, Radicchio, Kale, Kohlrabi, and Carrots with Dried Tart Cherries, Roasted Butternut Squash, Spicy Pepitas, and Pumpkin Spice Vinaigrette
 
Caesar Salad (V)  |  $35 for a large salad (eight servings)
Chopped Romaine, Shaved Parmesan, House Croutons, and Caesar Dressing
GF - gluten-friendly  |  V - vegetarian  |  VG - vegan