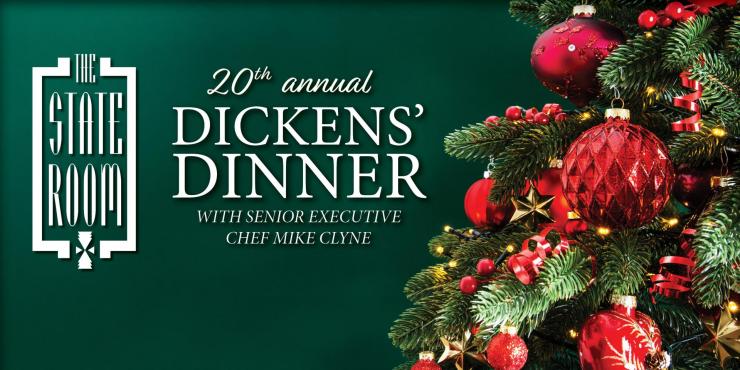 20th Annual Dickens' Dinner
Wednesday, Dec. 7  |  6:30 p.m.
State Room Restaurant
$89 per person (plus 6% sales tax and 20% gratuity)
Includes: All cuisine and wine pairings
Join us for the 20th annual Dickens' Dinner on Dec. 7! The fan-favorite event is an English-inspired celebration featuring seasonal cuisine and music.
Our festive menu is prepared by Senior Executive Chef Mike Clyne, with seven courses of unique dishes. During the meal, guests will also hear live music performed by the Someko Singers from Okemos High School.
Guests must be at least 21 years old to attend the event. Registration is available online: go.msu.edu/stateroom. As of Nov. 18, the event is sold out; however, the registration site offers a waitlist option.
Please note the restaurant will not offer regular dinner service on the night of the event. We will be closed for dine-in service and curbside pickup on Wednesday, Dec. 7.
If you have any questions, please call the State Room at 517-432-5049.
Dickens' Dinner Menu
A Toast to the New King
Smoking Bishop with Red Wine, Port, Oranges, and Spices

In Remembrance of Lady Diana, Princess of Wales
Egg Suzette with Crisp Potato Pancakes from a Baked Jacket Potato, Poached Egg, Smoked Salmon, Baby Spinach, and Hollandaise
Vegetarian alternative: Egg Suzette with Crisp Potato Pancakes, Spinach, Avocado, Poached Egg, and Hollandaise
 
Presenting Their Royal Highnesses William and Kate, the Prince and Princess of Wales
Rotisserie Chicken Coconut Curry Soup with Rotisserie Chicken, Ginger, Thai Red Curry, Tuscan Kale, and Coconut Milk
Vegetarian alternative: Porcini and Chestnut Soup with Bisque of Sautéed Porcini Mushrooms and Roasted Chestnuts
 
One King to Rule Them All, All Hail King Athelstan
Cornish Pasty with Red Wine Braised Oxtail and Roasted Root Vegetables in a Crisp Pastry Crust
Vegetarian alternative: Cornish Pasty with Butternut Squash, Lentils, and Kale in a Crisp Pastry Crust
 
Let's Not Forget the Other Elizabeth - "Elizabeth Angela Marguerite Bowes-Lyon," the Queen Mum
Boiled Flounder featuring Oven Poached Filet of Flounder, Crabmeat, and Chenin Blanc de Blanc
Vegetarian alternative: Hot Honey Flatbreads with Roasted Carrots, Ricotta, Honey, Sea Salt, Lemon Zest, and Basil Chermoula
 
Stand Up for the Greatest King of All, "King" Kenny
IRN BRU Sorbet
 
In Honor of His Royal Highness King Charles III
Herb Crusted Roasted Loin of Lamb with Wild Mushroom Risotto
Vegetarian alternative: Brown Rice, Asparagus, Minted Peas, Chardonnay, and Coconut Butter
 
In Loving Memory of Her Majesty Queen Elizabeth II
Chocolate Biscuit Cake with McVities Rich Tea Biscuits, Chocolate, and Orange Caramel